The Supreme Court is expected to make a ruling on "Janus v. AFSCME," a case that has the potential to overturn a 1977 decision that sanctioned public sector unions to deduct "Fair Share" fees from non-members for the costs associated with collective bargaining and contract enforcement services.
[caption id="attachment_7590" align="alignright" width="300"]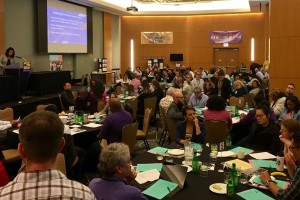 Hundreds of SEIU leaders and staff from across the country gathered in Chicago on May 24-25 for a national strategy session anticipating a national Supreme Court ruling allowing non-members to opt-out of paying fair share fees.[/caption]
Mark Janus, the worker in this case, argued that being forced to pay fees to a union he chooses not to belong to violates his First Amendment rights. Unions have countered that the fees are necessary to cover non-members' share of the costs associated with collective bargaining. The Supreme Court filing tees-up the same issue it deadlocked on last year in Friedrichs v. California Teachers Association. With Neil Gorsuch now on the court, it seems likely "Janus" will prevail.
With support from the SEIU headquarters, Local 888 leaders are planning better membership communications and expanded leadership in every chapter. Members will need to be engaged on an unprecedented scale to preserve the gains of collective bargaining and win future fights for economic and social justice.