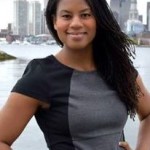 Join Local 888's Committee on Political Action for an opportunity to meet Lydia Edwards, candidate for Boston District 1.
Get date, time and location details and RSVP for the event here!
Those who cannot attend but wish to donate can do so here: https://secure.actblue.com/contribute/page/lydiaforboston
This event is free and open to anyone and everyone!
Lydia Edwards is a proven leader and innovator who gets results. As an attorney she drafted and passed legislation to protect women workers and led a department of city government on the day-to-day issues facing Bostonians in housing and economic development.
Learn more about Lydia by clicking here: //www.lydiaedwards.org/ lydiaforboston1@gmail.com
[caption id="attachment_7665" align="alignleft" width="150"]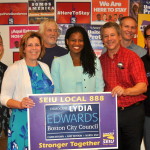 Local 888 staff and leaders Joe Lazzerini , Brenda Rodrigues, Joe Salterio, Rand Wilson, Ian Adelman with Lydia Edwards at the press conference[/caption]