Boston Common
All members of SEIU Local 888 are urged to join a day of action across the country on Labor Day to stand up with working people fighting for a better life. At left is info about Labor Day actions in Boston.  There are actions on the Boston Common at 6:00 AM or 11:00 AM (followed by a march to Copley Sq).
Bread & Rose Heritage Festival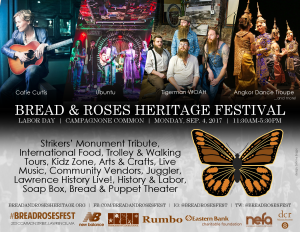 Also on Labor Day is the annual Bread & Rose Heritage Festival in Lawrence from 12:00 - 5:15 PM.
This is a great event with music and food and fun for the whole family!
SEIU Local 888 will have a tent at the festival.  All members are encouraged to drop by!  (We need volunteers to help set up and staff the tent during the festival.  We will have a raffle and information about SEIU Local 888 and unions.  (Local 888 organizer Gayle McMahon will coordinate our efforts.)
Below is information about an online national action to support unions. Sign up here to RSVP for the online action.