Suffolk University administrative and clerical staff have been fighting to win a union with Local 888 since August 2016. The workers have been organizing to win what they deserve—a voice in their workplace, good benefits, and job security. Because a good job and a lasting career is worth fighting for!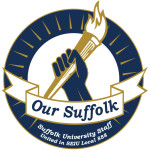 While dedicated Suffolk staff volunteered their time to help build an organization that can help them fight for improvements in their workplace, Suffolk management hired an infamous Chicago union-busting law firm, Seyfarth Shaw to dissuade workers from supporting the union. The law firm, which typically charges over $600 an hour, conducted "one-on-one" anti-union meetings with workers, and used weakness in our labor laws to delay the union vote.
After the March 2 NLRB election and the decision on the challenged votes, the final tally was 96 votes in favor of a union to 96 votes against. "The vote count was evenly divided, but our conversations during the campaign showed that a majority of staff want greater security in our jobs and our benefits, a voice on the job and regular raises," said Meri Power-Ayer, a Senior Program Coordinator in the Political Research Department. "The only way to make these improvements is through a union and a collective bargaining agreement."