On Nov. 28, the Boston Globe ran a front-page story on Emerson College's plan for development along the Boston Common. Emerson is planning to make a big push to grow their reputation and increase their presence in Boston.
The article did not mention that while Emerson administration is seeking to increase its influence, it is also in contract negotiations with staff. Half of Emerson workers are paid below market rate for peer institutions, while management offers new hires higher wages than veteran workers in the same title.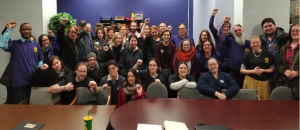 Emerson's Staff Union Bargaining Committee responded to this story with the following statement:
Reading about Emerson's 'big plans' to boost its image hit a sore nerve for Emerson staff who are working for unlivable wages. Emerson's attempt to build a civically engaged liberal arts college is tone-deaf on a good day.
After forming a union in the Spring of 2016, we are still negotiating our first contract. Management insists that it cannot raise our pay, and that it is low because we work for a non-profit. Then, in the same week, they purchase a building for $24 million!
Emerson's own comparative compensation studies show staff is paid well below market rate. Management uses its building renovations as an excuse for why our salaries are so far behind. Real estate may be a good investment, but an investment in the employees working in these spaces who actually make the college successful is long overdue.
The staff union has had over 20 bargaining sessions over the past year. Before their last bargaining session, the Bargaining Committee hosted a "coffee hour" for staff. Over 50 Emerson staff came to greet management's bargaining team as they walked in to the negotiations.
All Local 888 members are urged to support Emerson staff union's fight for a good contract by signing an online petition!