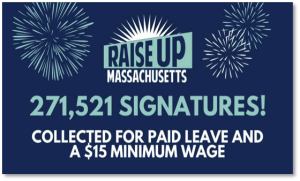 Raise Up Mass collected more than 271,000 signatures to put raising the minimum wage to $15 per hour and paid family and medical leave on the ballot in 2018. The coalition collected 137,000 signatures for boosting the minimum wage and 133,500 for paid leave.
Local 888 members collecting 875 signatures for raising the minimum wage and 845 for paid family medical leave. Congratulations to all who helped in this monumental effort!
Did you collect signatures? Share your story about what it was like talking to your fellow members. How did other members respond? Please contact Rand at rwilson@seiu888.org to share your experience.