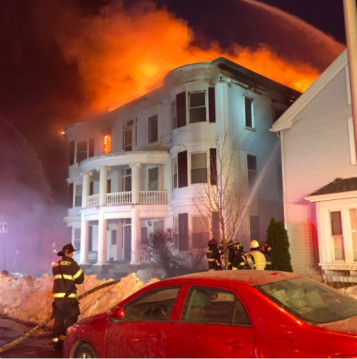 SEIU Local 888 member and Chelsea Soldiers' Home employee, Christine Cyr suffered a devastating loss when her home caught fire in Lynn on January 8 leaving her homeless. Cyr lost all her belongings including her pets. Local 888 Executive Board member and Chelsea Soldiers Home union leader Rick Moffatt requested $500 support for Cyr and her family from the union's Benevolent Fund.
Local 888 member Christine Cyr told CBS Local News that her fiancé evacuated the building so quickly that he was unable to even grab their two cats and two birds. "The whole roof caved down, the whole building. They couldn't put the fire out for hours," Cyr said. "I lost my babies so, kind of numb. It doesn't seem real."
Want to help? Members are urged to contribute via a "Go Fund Me" web site, which can be found at this link, //bit.ly/2mkXplz. So far $1,238 of the $2,000 goal was raised in just two days!