SEIU Local 888 President Mark DelloRusso testified at a hearing held at UMASS Lowell just after the Group Insurance Commission (GIC) abruptly announced that it would reconsider its decision to remove several popular insurance carriers from the GIC.
[caption id="attachment_8046" align="alignright" width="300"]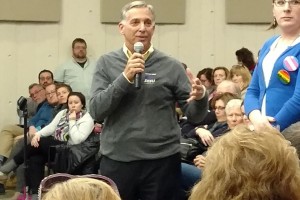 Local 888 President Mark DelloRusso at the GIC hearing held at UMASS Lowell[/caption]
Since the decision was announced on Jan. 18, there has been an uproar from public service employees and their families across the state.
The proposed changes would affect 580 members at UMass Lowell, plus thousands of other state workers in Unit 2, the Mass Lottery and a number of municipalities covered by the GIC.  It would affect many retirees as well.
The GIC said it would reconsider that plan when it meets next week.
President DelloRusso decried the lack of transparency in the GIC process and how this vote was rushed through without the input of affected workers.  "It's crucial to hear from the people affected before making a decision like this.  Members have a right to know the impact and if they will be able to keep their doctors."
Members are urged to attend additional hearings scheduled for Friday, January 26 at 10:00 AM at UMass Dartmouth, 2:30 PM at Hyannis Youth & Community Center Shepley Community Room and on Monday, January 29 at 12:00 PM at the Charles Hurley Building in Boston. Click here to get more details. RSVP by email to: gic.events@massmail.state.ma.us.