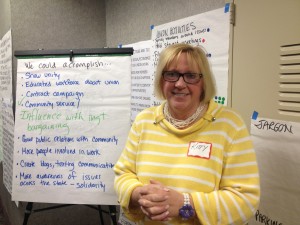 Kitty Mahoney
Framingham Professionals Union
6 years as Secretary-Treasurer
When Kitty Mahoney heard about the GIC changes, she immediately wrote a letter to her representatives. Here is an excerpt from her letter:
"This is a violation of the trust that I placed in the hands of those who by design must consider my best interests, the need for health care and has dramatically reduced my health care options.
"Public sector employees have had to make compromising health care option agreements over the years. The impacts of these changes are deep and profound! From reducing the capacity to attract public employees, to reduced care options and even suggests a complete monopoly on pharmacy choice… excluding all others except (in my community) a single mail-order pharmacy!
"Many need to change doctors AGAIN having just done so recently! The committee deciding to slash the options made available to those who have dedicated themselves to public service compromises health care relationships we have with our providers and reduces the inclination for people to seek routine care which only serves to further increase poor health outcomes when AGAIN we are forced to change doctors!
"GIC was sold to us as an alternative to costly carriers as a group. I understand the need for cost containment, but eliminating choices does little to that end when there are few at the table to negotiate group rates and we are left with mail order care all around. Consider the voices representing the proposal and the unfair advantages. Anyone would be outraged. I am."