On February 7, the Brandeis Labor Coalition hosted a panel on unions and work at Brandeis. The unions represented were SEIU Local 509 Graduate Students, SEIU 509 Part-Time Faculty, and SEIU Local 888.
[caption id="attachment_8097" align="aligncenter" width="300"]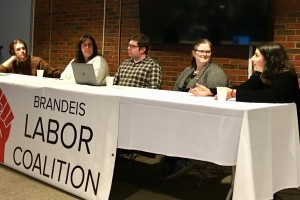 Panelist and Local 888 member Aimee Slater (Librarians Union - SEIU Local 888) is second from right. Other panelists include: Drew Flanagan (Part Time Faculty - SEIU 509) and Kalee Hall (Graduate Students - SEIU 509)[/caption]
Local 888 member and steward Aimee Slater represented the Librarians Union at Brandeis. Aimee spoke about coming from a union family with both of her parents in unions and her family not crossing picket lines.
Aimee emphasized the importance of her union being at the forefront of initiatives that benefit both union and community members. She gave examples of Local 888 members fighting for a lactation room and gender neutral restrooms in the library.
Aimee also outlined her role as a steward. At the Brandies Libraries there are five stewards across both of the units. The stewards meet together every two weeks to compare notes and discuss their contract and workplace issues. Stewards also meet monthly with management to informally discuss the contract. Most of the time her job is about listening to members' concerns, helping to mitigate them, and to set people's expectations around what is a union issue and what is not.
Aimee closed the panel by explaining the importance of member education. "We have to educate our members on the value of having a union," said Slater. "There is value in being part of a bigger whole."