The election for Local 888's three Officers, eighteen Executive Board members and three Trustees has concluded. 1,698 valid ballots were cast.
[caption id="attachment_8145" align="alignright" width="300"]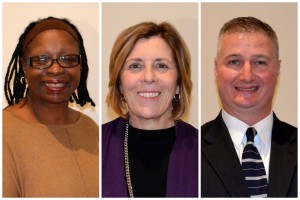 Anita Christon, Recording Secretary; Brenda Rodrigues President; Tom McKeever, Secretary-Treasurer.[/caption]
Brenda Rodrigues was elected President, Tom McKeever was elected Secretary-Treasurer, Anita Christon was re-elected Recording Secretary. These candidates were all part of the Leadership for Changing Times slate.
Trustees Susan Winning, UMass Lowell Lori Moran, Watertown Bill Lapsley, Mass Lottery
Executive Board 1. Kwesi Ablordeppey, Holyoke Soldiers Home 2. Darcie Boyer, UMass Lowell, Center for Women & Work 3. Gina Capone, Town of Winchester 4. Carolyn Carey, Town of Harwich 5. Jim Corcoran, Town of Mashpee 6. Margaret (Peggy) Fitzgibbons, Town of Plymouth, Department of Inspectional Services 7. Jayne Fogarty, Town of Yarmouth 8. Diane Foley, Town of Weymouth 9. Enio Lopez, Chelsea Soldiers Home 10. Emmanuel Marsh, Mass State Lottery, Woburn 11. Kevin Nascimento, Brockton Public Library 12. David Reno, Boston Police Department 13. Damali Simmonds, Boston Water & Sewer Commission 14. Jennifer Reynolds, Town of Amherst 15. Teresa Riordan, Westwood 16. Fred Simmons, City of Haverhill 17. LaToya Weaver, Boston Center for Youth & Families 18. Pam Willard, Town of Westborough
All of the positions are for three-year terms. To learn more about the roles and responsibilities of officers, trustees and executive board members read Local 888's Bylaws here: //www.seiu888.org/constitution/
President Mark DelloRusso congratulated Brenda Rodrigues on her election victory and assured her that the leadership transition will be handled cooperatively over the next two months.
A Local 888 Election Committee appointed by President Mark DelloRusso oversaw the election. Gordan Luciano, from the Lottery, chaired the committee. Other Local 888 members on the committee were Meta Jones (Boston), Lenny DiBartolomeao (Chelsea) and alternate Kathleen Porrazzo (Quincy Housing Authority). The balloting and tabulation process was supervised by MK Elections, a professional ballot tabulation firm.
To qualify for the ballot, all candidates had to submit nomination petitions by December 22, 2017. The newly-elected executive board and trustees will be sworn in on May 1. Local 888 would like to thank the Election Committee for their work overseeing the process.