Members put their issues front and center at forum
[caption id="attachment_8229" align="alignnone" width="300"]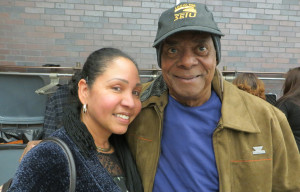 LAWRENCE FORUM: Susana Veras and Antonio Bueno of Local 888 were glad to hear from the congressional candidates.[/caption]
SEIU members packed the auditorium at the Lawrence Public Library for an April 3rd Congressional District forum. Candidates kicked off the event with short statements, and then were grilled individually by union members sitting at cafeteria-size tables.
"I thought it was a fantastic event, and the candidates seemed to think so, too," said Tom McKeever, Local 888's new political director and secretary-treasurer-elect. "With the round robin setup, they got to talk for a time to one group of SEIU members and then move on to next."
"The forum was a good way to try to find out what candidate the union should support," said Antonio Bueno, of Local 888's city of Lawrence unit.
The SEIU State Council sponsored the forum in partnership with Local 888 and other Massachusetts SEIU locals along with the SEIU community action program. Numerous Local 888 members from the Lawrence City Hall unit attended the event. Spanish translators were on hand.
Banners in the auditorium featured campaigns such as "Lawrence: Lucha for $15." And raising the minimum wage to $15 was a top issue for SEIU members there. Attendees asked the seven candidates about issues ranging from climate change, to the opioid crisis, gun control and immigration reform.
"Some of the candidates had some really impressive backgrounds, and it was great to meet them," said McKeever.
The 3rd congressional seat is open because U.S. Rep. Niki Tsongas (D-Lowell) is retiring. Seven Democrats attended the SEIU forum:
Alexandra Chandler, a former U.S. national security analyst
Abhijit "Beej" Das, a small business owner
Rufus Gifford, a former U.S. ambassador to Denmark
Dan Koh, ex-chief of staff for Boston Mayor Marty Walsh
Barbara L'Italien, state senator from the 2nd Essex and Middlesex District
Juana Matias, state rep from Lawrence
Lori Trahan, small business owner.