[caption id="attachment_8226" align="alignnone" width="300"]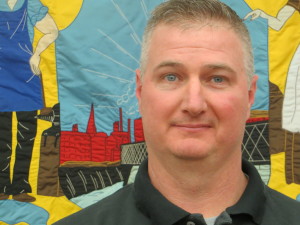 McKEEVER: Newly elected secretary-treasurer.[/caption]
Q: Local 888 President Brenda Rodrigues has appointed you political director. And you were recently elected secretary-treasurer on her Leadership for Changing Times slate. How will that inform your new roles?
Brenda's philosophy is getting the membership more involved with their co-workers and the union. There wasn't a focus on that in the past. So that's a major goal. We'd like to see the membership come out and get more involved and take more leadership roles.
In addition, we want to be very visible; we want to have more transparency, and to be accountable. And we certainly want to make sure that if a phonecall is placed to the office, that someone returns that call to the member. That was one of the biggest complaints from members that we heard during the campaign.
Q: What attracted you to the position of political director?
I'm a graduate of UMass Boston. My focus was political science. I've always had an interest in political debates, the political climate and elections. So, when the post was offered to me, I gladly accepted. I'm sure there'll be a learning curve for me, but I look forward to doing the job.
Q: What changes would you like to make to improve Local 888's effectiveness?
Our main concern is to boost our COPA (Committee on Political Action) funds. Our union dues do not cover our needs for political action. If our members are willing to give additional money, then we could support the campaigns of candidates who share our ideology. We have a lot of work to do in that regard.
COPA funds allow us to endorse candidates who will really work with us to support our agenda and help us overcome roadblocks. Looking ahead, the Janus case, specifically, is a major concern