[caption id="attachment_8220" align="alignnone" width="300"]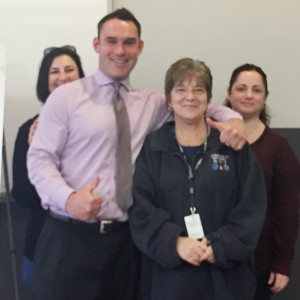 NEGOTIATING PARTNERS: David Nagle and Terry Medeiros, in front, and Christine Cornelio, left rear, and Susan DeSousa[/caption]
The Somerville Dispatchers Unit has a new three-year contract that has a total value of slightly over 10 percent in monetary benefits, including an increase in pay for longevity on the job. Because the contract is retroactive to last July 1, members will get retro checks.
Among other things, every employee gets a $500 pay increase, a hike in shift differential pay, an additional holiday, a 2 percent cost-of-living increase and a guarantee of four hours pay for court time.
The Belmont Clerical Unit ratified a new contract. The 44-member union covers clerical and librarian workers and building inspectors. The contract includes a bump in longevity pay, additional step raises, improved eyeglass benefit and 2 percent cost-of-living increases.
"Both of these were very dedicated negotiation teams, very focused on getting what they wanted," said field representative David Nagle. "They dug in their heels and were very resilient."