[caption id="attachment_8554" align="alignnone" width="300"]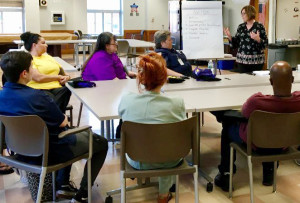 TALKING SHOP: Local 888 President Brenda Rodrigues speaks with members during her recent visit to the Chelsea Soldiers Home.[/caption]
Two candidates going toe-to-toe in the Local 888 race to become unit chair at the Chelsea Soldiers Home is an outstanding example of union democracy in action. Speandilove Nelson, a certified nursing assistant originally from Ghana, has worked at the facility since 2004. Leonard DiBartolomeo has worked at the Chelsea Home for 2 ½ years and is the campus police chief. The vote will be June 12 and 14.
Both have stepped up to seek leadership at the Chelsea Home in the wake of the recent Local 888 election that ushered in the Leadership for a Changing Times slate. After the election, the Chelsea Home's previous chapter chair and vice chair resigned.
Newly elected Local 888 President Brenda Rodrigues and her slate want members to get involved, build stronger relationships and take more leadership in their workplaces. The Chelsea Home has 223 union members.
Nelson said she wants to bring "Changing Times" to the Chelsea Home. "If we come together as union members, we can affect lasting change."
DiBartolomeo echoes her call for change. "If we have the right number of stewards and the right stewards we can make a difference."
Both said that grievances – including their own – have been mishandled, or simply not taken care of, under previous unit leaders.