[caption id="attachment_8445" align="alignnone" width="300"]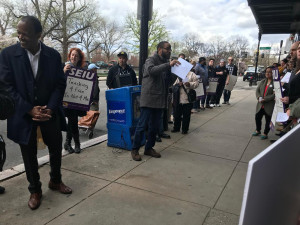 GETTING AN EARFUL: Emerson President Lee Pelton, left, and staff member Anna Feder, with sign, listen as staffer Pierre Huberson talks to a luncheon rally for equal pay and a fair wage.[/caption]
Members of the Emerson Staff Union voted unanimously to ratify their first collective bargaining agreement with the college—a four-year pact that guarantees across-the-board raises of 14.5 percent over the life of the contract, new commuter benefits, strong "just cause" job protections, a sick bank and a broad parental leave policy.
"I'm proud of the agreement we reached," said Jacqueline Holland, assistant director of Academic Support, with 18 years of service. "We worked hard to end the favoritism and inequities created by a merit pay system. Instead, we established across-the-board raises that are fair and commensurate with the work we do."
The contract covers about 170 clerical, technical and professional employees at Emerson College who perform a variety of jobs critical to the success of the college. The Emerson Staff Union was formed with support from SEIU Local 888 in 2015. Workers won an NLRB-supervised union representation election in April 2016.
The contract creates stability, predictability and a new standard for employee relations at Emerson College.
During the organizing campaign, staff found that requests for parental leave were being treated on a case-by-case manner that often didn't cover adoptive parents. "Now we have a fair parental leave policy that covers all parents for 12 weeks, no matter their situation," said Richelle Devereaux-Murray, Costume Shop supervisor, with 14 years of service. "This allows all staff to focus on big changes in their family life without stressing over how HR will respond to their request for leave."
Even before the contract was ratified, the staff union won important improvements to their working conditions. When the union exposed that women were paid less to do the same jobs as men in the same department, administrators raised the women's salaries. At the bargaining table, the union insisted management fulfill its promise to raise pay to the 40th percentile. And it did, for all staff at Emerson, union or not. The administration also moved everyone up from the lowest pay grade and then eliminated it.
"Our members showed their determination to win long-overdue job improvements by protesting at college events, circulating petitions, and staying united on the job," said Estelle Ticktin, administrative assistant to the chair of Communication Sciences and Disorders, with five years of service. "We enlisted support from our students, other Emerson campus unions, other higher-ed unions, and members of SEIU. That support and solidarity was essential to winning a good contract."
"Our top college administrators have often said they want to make Emerson the best college to work at," said Dennis Levine, System Security administrator, with four and a half years of service. "We think this contract is the first tangible step in that direction."
In addition to staff at Emerson, Local 888 unites higher education employees at Boston University, Brandeis University and UMass Lowell.