[caption id="attachment_8562" align="alignnone" width="155"]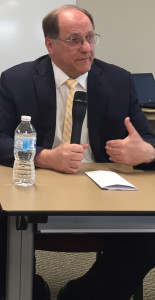 Michael Capuano[/caption]
[caption id="attachment_8563" align="alignnone" width="154"]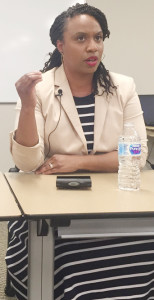 Ayanna Pressley[/caption]
SEIU members living in the 7th Congressional District have a big choice to make in September's Democratic primary. Boston City Councilor Ayanna Pressley is challenging incumbent U.S. Rep. Michael Capuano. The seat covers much of Boston, Cambridge and Milton and all of Chelsea, Everett, Randolph and Somerville.
The two spoke and answered audience questions at a candidates forum held at SEIU 1199's Quincy headquarters.
Before the event, Darrin Howell, a candidate for state representative in the Sixth Suffolk District, said he didn't see that the two candidates were very different on their stances on the big issues. So Howell said, "I want to learn what approaches to moving the needle forward they present. I want to get residents involved; it's all about taking their voices to the decision-makers."
Howell has picked up the endorsement of SEIU Locals 888 and 1199, where he previously worked as a political organizer.
During the candidates forum, SEIU Local 888 Secretary-Treasurer Tom McKeever peppered the two candidates with questions on big statewide campaigns – such as the proposed millionaire's tax and the Fight For $15 minimum wage campaign.
SEIU 1199 member Smith Lamothe played the role of emcee, calling on audience members to ask questions. Lamothe, who works at Boston Medical Center, said that, "We, the members, are in the driver's seat. We are the driving force behind this endorsement process."
Capuano pointed to his numerous union endorsements and "proven track record" in Congress as reasons the state's SEIU union locals should endorse him. "I'm the one who knows how to stand up to Donald Trump."
He played up his immigrant family roots, saying it gives him a strong emotional tie to the so-called "Dreamers," young adults who were brought to the U.S. as children – and who President Obama moved to protect from deportation.
McKeever asked the congressman about his concept of bipartisanship.
"My definition of bipartisanship is beating Republicans," said Capuano. "Politics is a team sport. Nobody can do it alone."
"Voting the right way is not enough," Pressley said, adding that "these times require activist leadership." Pressley said she personally relates to the issues of addiction and mass incarceration that too many in the congressional district suffer from. Her father landed in prison due to his drug addiction.
Reforms are needed, she said. "The main driver of recidivism is unemployment."
Beyond that, Pressley said, "I believe you should be the co-pilot in leading your community." She added that the Trump tax cuts would be at the top of her list of targets if she is elected to Congress.
Should Local 888 endorse a candidate in the 7th Congressional District? Let your voice be heard by going to the link below: https://goo.gl/forms/l2lI4ahmiDkGh00h2