[caption id="attachment_8559" align="alignnone" width="175"]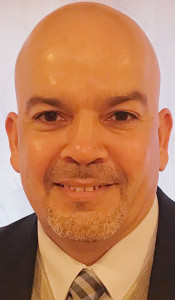 Alexcy Vega[/caption]
"I'm passionate about public service," said longtime SEIU Local 888 member Alexcy Vega. Now, Lawrence's chief assessor wants to use his skills to take charge of the Northern Essex Register of Deeds office – and to clean it up.
"We need to get the career politicians out of this office," said Vega. "It is time to see how an assessment official, a true public servant, can improve on what we have now."
Vega has served Lawrence as an assessor for 18 years, rising through the ranks. He was the city's first Hispanic to work as an assessor and would be the first to hold the position of register at the office, which is in Lawrence.
He said that he'd eyed the office of register for years, seeing it as a natural extension of his work as an assessor. "I know the ins-and-outs of that department. This is a position where I can hit the ground running."
"I can bring a lot more to the job than the incumbent," said Vega. He said he wants the office, which has 14 employees, to become a one-stop resource infomation center for homeowners and businesses.
The incumbent, Paul Iannuccillo, is the kind of office holder who makes politicians, if not public servants, look bad. Lawrence's Eagle-Tribune newspaper conducted an award-winning, six-month investigation of his work habits. The conclusion: He spent less than four hours a day in the Lawrence register's office while earning a $109,601 salary funded by taxpayers.
For more information on Alexcy Vega, see //www.vote4vega.com/