[caption id="attachment_8726" align="alignnone" width="300"]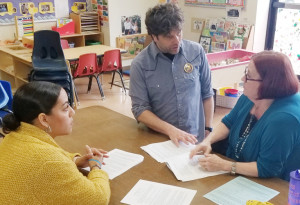 MEETING OF THE MINDS: Local 888 field rep Madeline Soto, teacher and shop steward Jonathan Dudley and teacher Paula Mulligan talk shop at the Leominster Head Start Center.[/caption]
Local 888's nearly 100 members at Montachusett Head Start have approved a three-year contract that includes guaranteed 3 percent-per-year raises.
Other major gains included that some workers got pay upgrades or had their hours increased from 37½ to 40, said Local 888 field rep Madeline Soto.
In addition, teachers who work year-round will be paid overtime to work a couple Saturdays in order to work on curriculum and lesson planning. Some people who are employed on a school-calendar basis already had this time built into their schedules. In addition, more workers are now eligible for mileage reimbursement and improved time-off provisions.
The Head Start teachers along with family services coordinators and family development coordinators work in centers in Clinton, Leominster, Fitchburg, Gardner and Athol.