[caption id="attachment_8734" align="alignnone" width="200"]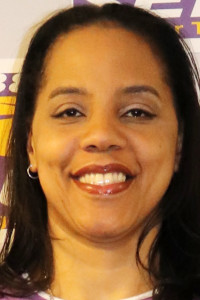 Damali Simmonds[/caption]
Following a campaign by the Raise Up coalition, the governor signed legislation that will increase the state's minimum wage to $15 an hour and create a Paid Family and Medical Leave program. These victories were only possible because union members and community activists gathered 350,000 signatures to get both proposals on the ballot, while at the same time organizing around the state to get the Legislature to enact these new laws. With these victories in hand Raise Up – a coalition of labor, religious and community groups – has agreed to drop its ballot initiatives.
Local 888 Executive Board member Damali Simmonds said "it's exciting" to have the medical leave act approved. "This means people can breathe a sigh of relief. They won't have to worry about paying their bills" if they take time off.
Simmonds – who testified at the State House for the legislation – learned first-hand about the need for such a program when she gave birth to her daughter Malia three years ago. Not long after she was born, her daughter became seriously ill." And I didn't have any paid time off on the books," said Simmonds, who works for the Boston Water and Sewer Commission.
The new Paid Family and Medical Leave program will make the state a national leader in support of working families. The legislation would allow Massachusetts' workers to take paid time off to take care of themselves or a family member after a medical emergency or the birth or adoption of a new child.
The bill would provide more job-protected paid leave than any other state – 12 weeks of family leave and 20 weeks of medical leave. The costs will be split 50-50 between employers and employees.
In addition, the minimum wage will rise to $15 by 2023. Raise Up strongly criticized some of the legislation's provisions – including the elimination of time-and-a-half pay on Sundays and holidays, something sought by the Retailers Association of Massachusetts.