[caption id="attachment_8785" align="alignnone" width="300"]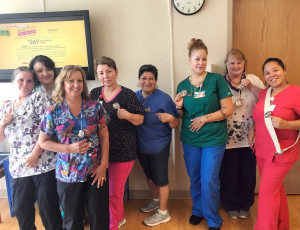 MEMBERS PROTEST: From left, Theresa Vogel CNA, Yelitza Hernandez CNA, Colleen Bartlett LPN, Carmen Rivera CNA, Marilyn Cruz facilities, Vanessa Rosado CNA, Karen Finnerty LPN, Becky Zavala CNA.[/caption]
Local 888 members at the Holyoke Soldiers Home staged a successful day of action to protest understaffing. The protest was led by CNA/LPN members concerned about chronic understaffing at the Holyoke Home.
A strong majority of the certified nursing assistants and licensed practical nurses took part in the day of action by wearing SEIU buttons.
Many of Local 888's other members in housekeeping along with NAGE members also took part by wearing the pins. The action coincided with a labor management meeting the same day. The Holyoke Soldiers Home offers a residential facility and hospice, dental and health services.