[caption id="attachment_8799" align="alignnone" width="300"]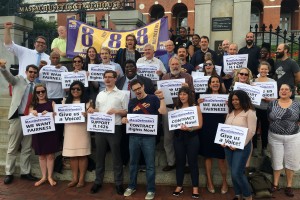 WORKING FOR JUSTICE: At the State House, workers in the public defenders' office and their supporters rallied for their rights.[/caption]
The MassDefenders aren't going to take "no" for an answer.
At a statewide organizing committee meeting in Worcester, leaders of the bid to win collective bargaining for employees of the Committee for Public Counsel Services vowed to press forward.
Local 888 Secretary-Treasurer Tom McKeever called on the MassDefenders to step up their efforts. "Local 888 has been with you on this journey for rights and respect for six years. We aren't going to give up now."
The roughly 750 lawyers, investigators and social service advocates and administrative staff in the state agency are caught in a bureaucratic mess. They want to form a union, but a loophole in the law denies them their basic human right. The MassDefenders have called on the state
Legislature to amend the law. Despite garnering 90 percent support from legislators, the bill never made it out of the House Ways and Means Committee.
State Rep. Jeffrey Sanchez, the committee chair, did not return calls for comment placed by The Boston Globe nor did House Speaker Robert DeLeo explain why the bill failed to advance.
Ben Evans, a Fall River public defender, told the Globe: "DeLeo wants to keep us powerless and begging for money every year." The Legislature has failed to approve the bill despite a six-year campaign.
"There is a great need for indigent people to have adequate representation in the justice system," said Jennifer Coliflores, a public defender in Worcester. "We spend our days defending them and fighting for their rights. It's time for all of us working for CPCS to stand up for ourselves, and our rights."
"The issues facing our clients are often linked — criminal matters, immigration issues, lots of poverty, mental health issues," said Rebecca Amdemariam, a lawyer with the Children and Family Law Division, which deals with parents and children facing possible state intervention. "If state representatives continue to deny us our rights to unionize, it says that they don't care about the communities that most need our help," she said.