[caption id="attachment_8896" align="alignnone" width="300"]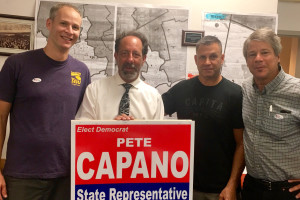 VICTORY PARTY: Pete Capano, holding a sign, and his supporters – including, from left, Local 888 organizer Ian Andelman, field rep Larry Higgins and staff chief Rand Wilson – had much to celebrate on primary day.[/caption]
Peter Capano, president of IUE-CWA 201 in Lynn, won the race for state representative in the 11th Essex District. With strong labor backing, including Local 888, the Lynn city councilor won a three-way race in a district that also includes Nahant.
Capano touted his sponsorship of a Lynn law to protect workers as one example of what it will mean to have him working as a state representative. The law prohibits contractors who violate the state's labor laws from doing business with the city of Lynn. At the State House, Capano added, "labor won't have to lobby me, I'll be one of the people lobbying my fellow legislators."
Capano criticized Democrats "who call on labor unions when they need bodies to win an election. After the election, they seem to get amnesia. I think a lot of that would change if there were more people from labor in elected office."
His victory was part of a Democratic primary that saw progressive candidates sweep out two of the top leaders of Massachusetts House Speaker Robert DeLeo's team. This was payback for the failure of the House to pass important bills on workers' rights, health care and education issues and protections for immigrants.
House Ways and Means Chairman Jeffrey Sanchez was defeated by Nika Elgado, a former State House aide, while Majority Whip Byron Rushing lost to Jonathan Santiago, an emergency room doctor at Boston Medical Center and SEIU member.
While the state SEIU stayed neutral in the 7th Congressional District race, the victory of Boston City Councilor Ayanna Pressley over incumbent U.S. Rep. Michael Capuano showed the deep sentiment for change in the Democratic Party.
For his part, Capano is part of a surge in labor candidates across the nation. Overall, this trend is being encouraged by the AFL-CIO's Path to Power program.
Some candidates related to Local 888 fell by the wayside during the primary – but numerous others are now gearing up for the general election.
In the plus column, Local 888 endorsed David Biele of South Boston for state representative. He carried the Fourth Suffolk District in the Democratic primary.
In addition, U.S. Rep. Bill Keating, who represents the 9th Congressional District, defeated a Democratic primary challenge.
On the other hand, Local 888 member Alexcy Vega, Lawrence's chief assessor, topped the ticket in the city but came up short overall in his Democratic primary bid for Northern Essex Register of Deeds.
Some candidates were endorsed by Local 888 fell short, including
John Drinkwater, legislative director for the state AFL-CIO, came in second in a five-person state Senate race in the First Middlesex District in Lowell.
Darrin Howell, who previously worked for SEIU Local 1199 as a political organizer, had run for state representative in the Fifth Suffolk District, which covers parts of Dorchester and Roxbury.
And Pam Gemme, a social worker for the Massachusetts Department of Children and Families and an SEIU Local 509 member, had run for the open 17th Worcester District.
Looking ahead, Local 888 has endorsed Diana DiZoglio. The Democratic Methuen state representative, is running for the open First Essex Senate District and will face a Republican opponent in November.
In other Massachusetts State Senate races, Local 888 endorsed:
Paul Feeney, incumbent, Bristol & Norfolk District
Jim Welch, incumbent, Hampden District
Karen E. Spilka, the new Senate president, who represents the Second Middlesex & Norfolk District.
Jamie Eldridge, the incumbent, Middlesex & Worcester District
Jason Lewis, incumbent, Fifth Middlesex District
Sal DiDomenico, incumbent, Middlesex & Suffolk District.
Michael Brady, incumbent, Second Plymouth & Bristol
David Biele, Fourth Suffolk District
The other  candidates for the state House of Representatives endorsed by Local 888 are:
James Hawkins, Second Bristol
Marjorie Decker, incumbent, 25thMiddlesex District.
Mike Connolly, incumbent, 26thMiddlesex District.
Denise Provost, incumbent, 27thMiddlesex District.
Christine Barber, incumbent, 34thMiddlesex District
Tram Nguyen, 18thEssex District
Michelle DuBois, 10thPlymouth District
Daniel Hunt, 13thSuffolk District
The union has also endorsed Steve Murphy for re-election as Suffolk County Register of Deeds.