[caption id="attachment_8888" align="alignnone" width="300"]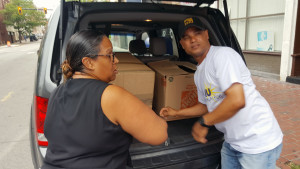 SPECIAL DELIVERY: Local 888 member Pedro Ayala, right, helps make deliveries in Lawrence to aid victims of the natural-gas disaster that shook the area. Recovery work continues.[/caption]
The SEIU State Council responded to the natural-gas disaster in Lawrence by contributing over $4,000 in lunches, pastries and other food for folks who needed it.
One person was killed and more than 80 homes were damaged by fires and explosions in the Lawrence-area disaster. That included the Lawrence home of Local 888 member **Carlos Morel'**s daughter – which was blown off its foundation.
Pablo Ruiz, of SEIU Community Action, worked with SEIU volunteers including Diana Richard and Monica Cannon-Grant to take the food up to the Merrimack Valley. Local 888 members helped volunteers to come up with locations to distribute the aid over the weekend of Sept. 15. SEIU members and leaders from the various locals then gave out water, juice and bag lunches to people who were just then being allowed to walk back to their South Lawrence homes to retrieve vital possessions, such as medications.
In addition, volunteers helped to feed folks who were forced out of their homes but were staying unexpectedly in Lawrence with family and friends due to the emergency. Volunteers also dropped off things at the Lawrence Senior Center.
"We were able to bring in some much-needed supplies," said Ruiz. "Distributing socks, towels, underwear, personal hygiene items and pillows was very appreciated."