[caption id="attachment_8790" align="alignnone" width="200"]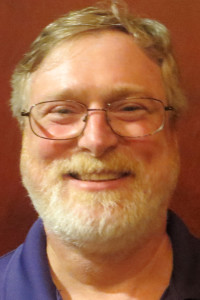 Dennis Levine[/caption]
Dennis Levine, a computer systems security administrator, is the newly elected Local 888 chapter chair for Emerson College. He's been at the school going on five years.
Q: What do you like about your job in particular? A. When I came to Emerson, I was looking to get into an environment that felt like more of an open atmosphere. A little more relaxed.
My job is to maintain the privacy of those who are on the network. As such, I get to meet 90 percent of the people in the college. And the team I'm working with is a fantastic group of people.
In addition, there's a sense of purpose to working in higher education. At Emerson, we're trying to educate young adults to be future leaders. I'm proud to be part of something bigger Q: How did you get involved with the union drive? A. I was against the union at first. The IT department is kind of insular. There wasn't that high a level of pressing issues. But once the union was voted in, I started hearing stories from other departments — how management had treated other departments and individuals. I decided to step up to the plate and be part of solving problems. It became clear to me that without the backing of a union, management can do pretty much whatever they want. Now we can hold them accountable" Q: What were negotiations like? A. Thank God they're over. It took 21 months of negotiating to win this contract. If management had come to the table in a reasonable fashion, we could have been finished far sooner. Q: What do you like to do in your spare time? A. I have a son, 23, and daughter, 22. I like to hike and camp. I go up north to New Hampshire with Boy Scout troops. I was a Boy Scout myself, and I've been involved with Boy Scouts the last 16 years. I enjoy it. I'm helping to make kids into adults.