[caption id="attachment_8966" align="alignnone" width="300"]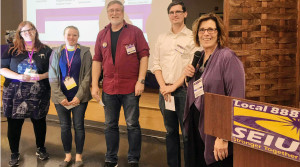 ON THE MOVE: From left, Shaylin Hogan and Dennis Levine, from Emerson College, and public defender John Sadek talk with Local 888 President Brenda Rodrigues about organizing.[/caption]
Two officers from the new Local 888 chapter at Emerson College were featured speakers at a workshop on organizing at Local 888's convention. The over 170 Emerson staffers recently inked their first union contract after a campaign that included holding a protest rally outside the school's administration building and picketing when prospective students visited.
"I feel proud of the fact that the people working around me are having a good experience working at Emerson – and that we're not isolated and alone," said graduate studies program coordinator Shaylin Hogan, the new Local 888 vice chair there.
The contract – which covers clerical, technical and professional employees – starts a new era of better treatment for the now-unionized Emerson workers, said Hogan. Before, she said, "we saw unfair treatment, even in my own department."
The new Local 888 chapter chair, Dennis Levine, said that management had run Emerson in such a way that "regardless of how well you did your job, you couldn't know what you were going to make. It was completely arbitrary."
With that in mind, he said the union negotiating team told Emerson: "There's no way we're going to sign any contract with merit pay."
Negotiations, which took 21 months, were frustrating, Levine said. "We weren't asking for anything outrageous. We were just trying to bring our members up to a livable wage. Most couldn't afford to live in the city of Boston."
Also on the organizing panel was John Sadek, a public defender with the Massachusetts Committee for Public Counsel Services. While the state has denied them collective bargaining rights, the agency's workers are forging ahead with plans to elect leaders and pursue justice – by fighting for collective bargaining rights without union certification.
Aimee Slater, a government information and social sciences librarian at Brandeis University, told the conference about the contract campaign there. The Local 888 librarians have sought and gained support from students, parents and the wider Brandeis community.
For more coverage of the Brandeis librarians' contract campaign, see //www.seiu888.org/
For coverage of former Massachusetts Teachers Association president Barbara Madeloni's keynote speech, see //www.seiu888.org/