[caption id="attachment_8939" align="alignnone" width="254"]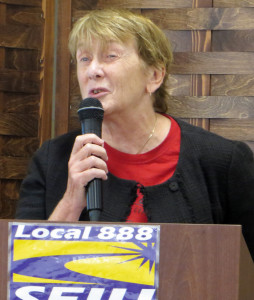 SPOTLIGHT ON ORGANIZING: Ex-Massachusetts Teachers Association president Barbara Madeloni speaks at the Local 888 convention in October.[/caption]
"Your job as leaders is to give members the opportunity to experience the power of unions," said Barbara Madeloni, keynote speaker at the Local 888 Convention 2018. "That's how you transform yourselves" to face the challenges ahead, she added.
Madeloni, former head of the Massachusetts Teachers Association, said a key problem for public workers is "the scarcity mindset. Austerity budgets have limited your opportunity to be paid a fair wage." Ordinary workers have been left out of the country's vast increase in wealth, she said. Instead, it's going to Wall Street and health insurers and their CEOs.
How to change that equation?
"Our power is at the work site. It's in the movement that we build," she said.
One example of increasing that power came during the campaign to defeat the 2016 ballot question that would have lifted the Massachusetts cap on charter schools, she said. "It was part of the right-wing agenda to undermine public schools and the teachers unions."
Millions of dollars to support the charter school question poured in from out-of-state, billionaires.
To defeat this behemoth, the MTA built a coalition of community groups, parents and students. "We knew that by creating a coalition that cared about public education, even if we lost, we would win," she said.
While early polling showed the charter school ballot question winning, in the end it lost by a vote of 62 percent to 38 percent. "We crushed them because we tapped into a shared belief in the common good," said Madeloni.
This year, teachers strikes in Washington state won teachers big raises as the legislature there was forced by the courts to address the chronic underfunding of public schools. Washington's teachers, thus, followed in the footsteps of teachers in West Virginia and other states in successfully demanding long-overdue raises.
Such victories all start from small beginnings, said Madeloni – whether it be conversations in school halls or having union members wear the same T-shirt on a given day.
"Nobody ever starts out talking about going on strike," she said. "Instead, union members must experience the power they have at the workplace. A power that transforms."