[caption id="attachment_8963" align="alignnone" width="200"]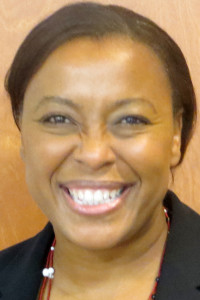 NIKA ELUGARDO[/caption]
"Unions are under attack, and we need to work together to protect our rights," Local 888 Secretary-Treasurer Tom McKeever said at the annual convention, spotlighting the union's Committee on Political Action, which aims to elect pro-labor candidates.
"Your union dues are not used to fund political activities that help support and improve your wages and working conditions," he said. And it is political activity that has brought Americans the five-day week, the eight-hour day – and even the right to bargain collectively.
Local 888-supported state representative candidate Nika Elugardo also spoke at the convention. In the Democratic primary, she defeated House Ways and Means Chairman Jeffrey Sanchez – who failed to come through on legislation that would have, finally, given the over 700 workers in the Massachusetts public defenders office the right to bargain collectively.
There were two big wins for Local 888 candidates in the Democratic primary. Peter Capano, president of IUE-CWA 201 in Lynn, won a three-way race for state representative in the 11th Essex District. There is no Republican candidate.
Also, Local 888 backed the winning candidate, David Biele, in South Boston's Democratic primary race for state representative. He faces no GOP opposition.
In several other House races, Democrats endorsed by Local 888 face competitive challengers:
* In the 18th Essex District, Tram Nguyen, a legal aid lawyer with Greater Boston Legal Services, is challenging incumbent Republican state Rep. Jim Lyons.
* In the 4th Middlesex District, incumbent State Rep. Danielle Gregoire (D-Marlborough) faces a rematch with a Republican Paul Ferro, a former Marlborough city councilor.
* In the 4th Plymouth District, Democrat Patrick Kearney is running for the open seat against Republican Ed O'Connell.
* In the 17th Worcester District, David LeBoeuf is seeking the open seat against Republican Paul Fullen.
Also, Local 888-endorsed Diana DiZoglio, Democratic state representative for Methuen, is running for the open First Essex Senate District and faces a Republican opponent, former Boxford Board of Assessors member Alexander Williams.
In other Massachusetts State Senate races, Local 888 endorsed:
Paul Feeney, incumbent, Bristol & Norfolk District
Jim Welch, incumbent, Hampden District
Karen E. Spilka, new Senate president, who represents the Second Middlesex & Norfolk District.
Jamie Eldridge, incumbent, Middlesex & Worcester District
Jason Lewis, incumbent, Fifth Middlesex District
Sal DiDomenico, incumbent, Middlesex & Suffolk District.
Michael Brady, incumbent, Second Plymouth & Bristol
Candidates for the state House of Representatives endorsed by Local 888 are:
James Hawkins, incumbent, Second Bristol
Marjorie Decker, incumbent, 25thMiddlesex District.
Mike Connolly, incumbent, 26thMiddlesex District.
Denise Provost, incumbent, 27thMiddlesex District.
Christine Barber, incumbent, 34thMiddlesex District
Michelle DuBois, incumbent, 10th Plymouth District
Dan Cullinane, incumbent, 12th Suffolk District
Daniel Hunt, incumbent, 13thSuffolk District
Local 888 has also endorsed Steve Murphy for Suffolk County Register of Deeds and John Bradley for Plymouth County district attorney. In addition: Boston City Councilor Ayanna Pressley in the Seventh Congressional District and U.S. Rep. Bill Keating in the Ninth Congressional District.