[caption id="attachment_8969" align="alignnone" width="184"]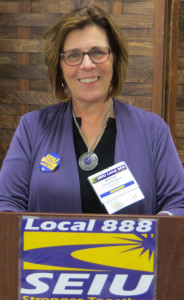 URGING UNITY: Local 888 President Brenda Rodrigues speaks at the annual convention.[/caption]
"In the post-Janus world, we need to pull together so that we really are stronger together," said Local 888 President Brenda Rodrigues, kicking off the annual Local 888 convention. She praised the local's officers, executive board and staff for the successful campaign to have thousands of members "recommit" to the union by signing new membership cards.
In the Janus case, the U.S. Supreme Court reversed decades-old precedents that public workers could be required to pay "fair share" fees for the benefits of collective bargaining.
Rodrigues said the court's decision was part of a larger campaign to cripple the power of U.S. unions. Similar lawsuits have been backed by extremist foundations funded by billionaire donors like the Koch brothers.
To meet this challenge, she said, "We need to be out in the community and supporting other workers." She called on members to support the 1,200 gas workers locked out of their jobs by National Grid. "Their fight is our fight." (Click here to find out more about the lockout)
She added that Local 888 leaders had joined the picket line for the Unite Here Local 26 members on strike against Marriott-owned hotels in Boston. (Click here to support the hotel workers.)
The convention included workshops on:
New member experience and Local 888's "Member Portal."
Winning pay equity for women.
Massachusetts public sector health and safety.