[caption id="attachment_8994" align="alignnone" width="200"]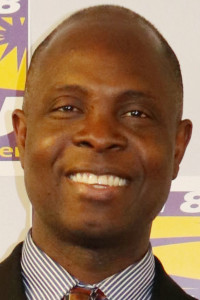 Kwesi Ablordeppey[/caption]
Local 888 members at the Holyoke Soldiers Home are committed to serving the veterans at the facility — understanding that demanding better working conditions for themselves is an important element of good care.
In a Veterans Day tribute, chapter leaders delivered care packages to the Holyoke Home — donations collected from workers there and from attendees at the Local 888 convention. The special delivery included such items as deodorant, soap, toothpaste and brushes, nail files and the like.
"We organized the donation drive as a gesture to show the veterans that we honor their service to the country," said Kwesi Ablordeppey, Holyoke Home's Local 888 chapter chair and a CNA.
At the same time, he said, members are fighting to correct problems at the Holyoke Home that include understaffing and harsh workplace conditions, such as forced overtime and unfair disciplinary actions. In turn, these problems contribute to high turnover, said Ablordeppey. He said that when he started at the Holyoke Home 19 years ago, it didn't have the high turnover that is there today.
This fall, Local 888 members began a campaign to seek improvements at the Holyoke Home. They organized T-shirt protests and delivered a petition to management saying they had no confidence in the director and assistant director of nursing.
As part of this campaign, Holyoke Home leaders met with Francisco Urena, state secretary of the Department of Veterans' Services, to air their grievances. He made a commitment to hold further meetings and to address the issues raised.
Then in November, an additional 14 CNAs and 4 licensed practical nurses accepted offers of employment at the Holyoke Home.