[caption id="attachment_8991" align="alignnone" width="300"]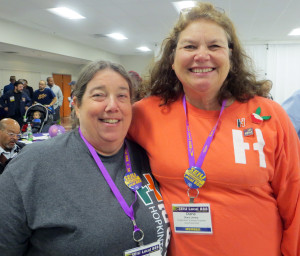 HARD WORK REWARDED: Diana Umina, right, and Rebecca Blake are co-chairs of Local 888's Hopkinton paraprofessionals chapter, which recently negotiated a successful contract.[/caption]
Against the backdrop of school budget cutting pressures – combined with a surge in student enrollment – Local 888 paraprofessionals at the Hopkinton Public Schools negotiated a contract with 6 percent raises spread over a three-year pact. The unit includes about 80 workers in five school buildings.
Unit co-chair Rebecca Blake blamed the "tough" bargaining climate on new housing and that the school district lacks its own funding source – and must go to the town to approve its budget. "The town keeps wanting us to have a level-funded budget, which doesn't even take into account raises," she added.
Meanwhile the small town has seen a 20 percent growth in population since 2010. In part, this has been fueled by the development of former Weston Nurseries land into nearly 1,000 housing units.
Almost 200 more students enrolled in the Hopkinton Public Schools at the start of this school year than had been expected. So, laid-off teachers had to be hired back.
Nonetheless, the paraprofessionals were able to negotiate a fair contract that the membership ratified. Blake and co-chair Diana Umina praised Local 888 staff for helping make that possible.