[caption id="attachment_9000" align="alignnone" width="300"]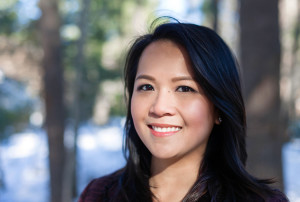 Tram Nguyen[/caption]
Many pro-labor candidates were swept into office in the fall elections. These victories capped months of campaigning by Local 888 members and leaders that resulted in legislation to raise the minimum wage to $15 and create a Paid Family and Medical Leave program.
More than 2.7 million voted this November, a record for any midterm election in Massachusetts. The heightened interest in politics shows voters' increasing concern about the direction that both the state and nation are headed in.
"Voters sent a message in favor of protecting union rights, making health care more affordable and getting the economy to work for everyone, not just the few," said Local 888 Secretary-Treasurer Tom McKeever. "The union's Committee on Political Action was crucial to electing candidates who will support workers."
In several House races, Democrats endorsed by Local 888 faced competitive challengers and won: Union dues are not used to fund political campaigns. That's why donations to COPA are so important — so that Local 888 actually has a voice up at the State House and in the halls of Congress.
In several House races, Democrats endorsed by Local 888 faced competitive challengers and came out ahead:
In the 18th Essex District, Tram Nguyen, a legal aid lawyer with Greater Boston Legal Services, ousted incumbent Republican state Rep. Jim Lyons.
In the 4th Middlesex District, incumbent State Rep. Danielle Gregoire (D-Marlborough) won decisively in a rematch with Republican Paul Ferro, a former Marlborough city councilor.
In the 4th Plymouth District, Democrat Patrick Kearney trounced his two opponents in a race for the open seat representing Marshfield and Scituate.
In the 17th Worcester District, David LeBoeuf captured the open seat, campaigning on a platform of improving access to health care and for universal pre-kindergarten.
In the general election, Local 888 supported state representative candidate Nika Elugardo. In the Democratic primary, she defeated House Ways and Means Chairman Jeffrey Sanchez, ‑‑ who failed to come through on a bill that would have given workers in the Massachusetts public defenders office the right to bargain collectively.
Also, Local 888-endorsed Diana DiZoglio, Democratic state representative for Methuen, who won the open First Essex Senate District in a landslide.
There were two big wins for Local 888 candidates in the Democratic primary. Peter Capano, president of IUE-CWA 201 in Lynn, won a three-way race for state representative in the 11th Essex District. Also, David Biele netted South Boston's Democratic primary race for state representative.
One sour note for Local 888 in the election: Longtime prosecutor John Bradley lost his bid to unseat Plymouth County District Attorney Tim Cruz.
In other Massachusetts State Senate races, Local 888 endorsed these candidates who won re-election:
Paul Feeney, incumbent, Bristol & Norfolk District
Jim Welch, incumbent, Hampden District
Karen E. Spilka, new Senate president, who represents the Second Middlesex & Norfolk District.
Jamie Eldridge, incumbent, Middlesex & Worcester District
Jason Lewis, incumbent, Fifth Middlesex District
Sal DiDomenico, incumbent, Middlesex & Suffolk District.
Michael Brady, incumbent, Second Plymouth & Bristol
Wining candidates for the state House of Representatives endorsed by Local 888:
James Hawkins, incumbent, Second Bristol
Marjorie Decker, incumbent, 25thMiddlesex District.
Mike Connolly, incumbent, 26thMiddlesex District.
Denise Provost, incumbent, 27thMiddlesex District.
Christine Barber, incumbent, 34thMiddlesex District
Michelle DuBois, incumbent, 10th Plymouth District
Dan Cullinane, incumbent, 12th Suffolk District
Daniel Hunt, incumbent, 13thSuffolk District
Local 888 had also endorsed Steve Murphy for Suffolk County Register of Deeds. In addition: Boston City Councilor Ayanna Pressley in the Seventh Congressional District and U.S. Rep. Bill Keating in the Ninth Congressional District.