[caption id="attachment_8984" align="alignnone" width="200"]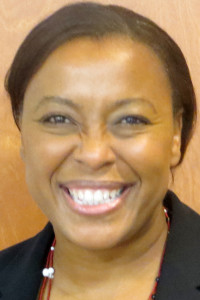 Nika Elugardo[/caption]
"Too many of our legislators have demonstrated a go-along to get-along behavior," said state Rep.-elect Nika Elugardo. "With me, you'll have an advocate."
At the Local 888 convention, Elugardo thanked the union for its endorsement in the general election and talked about the importance of supporting American workers.
"Housing should be a right for everyone," she added. "We have to have health care for all — not the situation we have now, where some people can't afford it."
The Jamaica Plain resident toppled state Rep. Jeffrey Sanchez, chairman of the powerful House Ways and Means Committee, in the Democratic primary. It was his committee that, in effect, killed legislation allowing the Massachusetts public defenders the collective bargaining rights that other state workers enjoy.
Elugardo has been a strong supporter of raising the minimum wage to $15. She ran on a platform that included:
Increasing the funding for public housing and building affordable housing
Repealing the statewide ban on rent control
Continuing with criminal justice reform
Championing a single-payer, "Medicare for All" health plan.