[caption id="attachment_9163" align="alignnone" width="300"]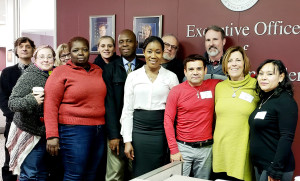 SERVING THOSE WHO SERVED: SEIU staff and leaders met with state officials about problems at the Soldiers Homes. From left: organizer Joe Montagna, Erin Saykin from the Holyoke Home, Theresa King (Holyoke), Lyneth Martin, from the Chelsea Home, Chrissy Wilson (Chelsea), Kwesi Ablordeppey (Holyoke), Speandilove Nelson (Chelsea), organizer Ron Patenaude, Elmer Ariazza (Chelsea), a Local 509 member, Local 888 President Brenda Rodrigues and Nely Sageth.[/caption]
SEIU local 888 and 509 members from the Holyoke and Chelsea Soldiers Homes took their campaign to improve working conditions to a new level at a Boston meeting Dec. 21 with Marylou Sudders, the state's secretary of health and human services. Sudders said she would look into the issues around understaffing and meet regularly with Local 888 leaders in a bid to resolve outstanding problems.
"The meeting was very productive," said Kwesi Ablordeppey, a CNA and the Holyoke Home's Local 888 chapter chair. "Therefore, it's worthwhile to give her the benefit of the doubt and say: Let's move forward."
"We're just looking for our basic human rights," said Erin Saykin, who also works at the Holyoke Home. "As it stands now, management is not giving us enough staff to do our jobs safely."
Union members blamed Holyoke Home management for causing high turnover. The causes include: understaffing, poor use of existing staff, excessive forced overtime and a hostile and retaliatory work environment generating a pileup of grievances. Ablordeppey said that 21 certified nursing assistants and licensed practical nurses left the facility over a four-month period this fall. New hires have replaced less than half of these.
The meeting with state officials is part of a campaign by Holyoke Local 888 members to seek improvements. They have organized T-shirt protests and delivered a petition to management saying they had no confidence in the director or assistant director of nursing.
At the Boston meeting, Sudders said she had several "action items," including a staffing study for the Soldiers Homes and better oversight of the discipline process.
"There's good reason to be optimistic that conditions at the Soldiers Homes will improve," Brenda Rodrigues said. "Local 888 wants that to happen, so they can continue providing excellent care to our veterans."