[caption id="attachment_9217" align="alignnone" width="199"]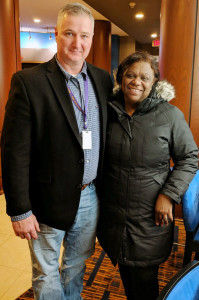 TIME OF NEED: Marcelina Johnson appreciates the support she has gotten from her union after fire hit her home, right, on New Year's Day. She is shown here with Local 888 Secretary-Treasurer Tom McKeever.[/caption]
Local 888 has helped out a member who was forced out of her home New Year's Day when a three-alarm fire devastated her Dorchester three-decker.
"I want to thank SEIU Local 888's Housing Trust and the union's Benevolent Fund for helping me and my family after a devastating fire. I'm so glad that my union can help people in need. That's what Local 888 is all about. God bless our union," said Marcelina Johnson, who works at Boston Centers for Youth & Families.
"All of us at Local 888 were concerned about Marcelina and her family," said Tom McKeever, the union's secretary-treasurer. "We are deeply honored to serve our members whenever we can."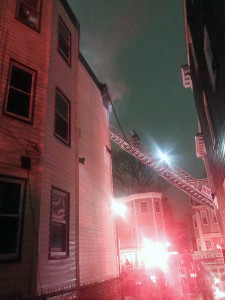 Published reports said that firefighters battled heavy flames to put out the fire. A total of 11 people lost their home, but no injuries were reported.
Johnson said that she was in Rhode Island to celebrate New Year's when she received calls about the fire. When she arrived back home, she found her street blocked off. "It was terrible," she said. "I wish that such a thing would never happen to anyone." Due to the fire, she said, "all my things are gone.
Fortunately, with the help of a son, her photos are backed up to "the cloud." Johnson, who owns the home, has four grown children; her husband is deceased. She has worked as a daycare teacher at BCYF for about 20 years.
For info on the Local 888 Housing Trust and Benevolent Fund, see Members Portal at www.seiu888.org. To aid the New Year's Day fire victims, see www.seiu888.org/gofundme