Register now for classes at the Labor Guild held in Braintree MA. Classes are Monday nights March 11th to May 13th.
[caption id="attachment_7593" align="alignright" width="300"]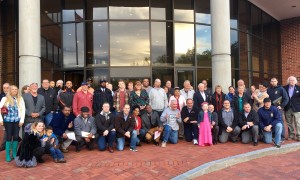 Local 888 members frequently attend Labor Guild programs. This picture show Guild students after their graduation ceremony.[/caption]
In the first period, 6:30 pm to 7:40 pm, there are three class choices: The Steward's Job, the American Labor Relations System, or Effective Conflict Resolution.
In the second period, 7:50 pm to 9:00 pm, you the choice of: Retirement: What You Need to Know in 2019, Keys to the Kingdom-Unlocking the Secrets of Municipal Finance, or Intro to Strategic Campaign Communications.
The cost is $125.00 for both periods. Members are eligible for reimbursement if they complete the full semester. This is limited to one member per chapter. Chapters may use their chapter funds to pay for any additional member's tuition. Email chapterfunds@seiu888.org if interested in this option.
For more details and an application form, please visit the Labor Guild website: laborguild.com/courses