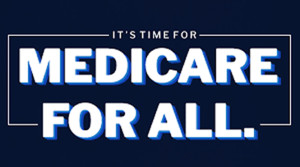 More and more unions are following the lead of the SEIU and Local 888 — and endorsing proposals for a Medicare-for-All model for the U.S. Meanwhile more than 100 House Democrats are supporting just such a plan, which would make health care a basic human right in this country.
"Today in America, 30 million people are uninsured; 40 million are underinsured. We have the most expensive healthcare system in the world and yet our outcomes are the worst of all industrialized countries," said the chief sponsor of the Medicare for All Act of 2019, U.S. Rep. Pramila Jayapal of Washington state.U.S. House members from Massachusetts who have endorsed the bill include Katherine Clark, William Keating, Joseph P. Kennedy, James McGovern, Ayanna Pressley and Lori Trahan.
At its 2017 convention, the Massachusetts AFL-CIO backed the Resolution in Support of Health Care as a Human Right. Delegates voted to support federal and state bills "that embody the principles of a single-payer Medicare-for-All system."
Similarly, the national AFL-CIO passed a resolution in 2017 endorsing Medicare for All model. One goal would be to cut overall costs by eliminating the red tape and inefficiency of private health insurance.
For more information on the Medicare for All Act of 2019, see https://jayapal.house.gov/medicare-for-all/medicare-for-all-act-of-2019/?
Three Massachusetts members of Congress haven't endorsed the act. You can reach them by going to their websites' contact section: Stephen Lynch at https://lynch.house.gov/contact-me/email-me, Seth Moulton at https://moulton.house.gov/contact/, Richard Neal at https://neal.house.gov/contact