[caption id="attachment_9329" align="alignnone" width="200"]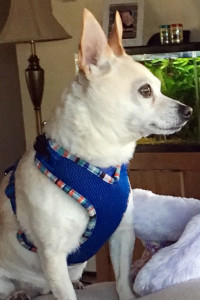 WAYWARD POOCH: Vanished after his owner was hurt in car crash.[/caption]
Watertown's animal control officer, a member of her Local 888 bargaining committee, has received accolades for going above and beyond the call of duty to rescue a lost Chihuahua – and getting bitten in the process.
The out-of-state owner of the Chihuahua had to be taken to the hospital after a Watertown car crash. When the snarly hound tried to bite one of the first responders on the scene, everyone backed away and the dog ran off.
Animal Control Officer Karen O'Reilly said she had put the word out, but there were no sightings for a couple days. While out on another call, she found the dog, named Chico, in a swampy area along the Charles River, maybe half a mile from her truck.
Watertown Police Capt. Raymond Dupuis and another officer arrived on the scene to help out. He said that, "after being out in the cold for two nights, the dog had an extremely bad attitude."
Nonetheless, O'Reilly was intent on capturing the snarling creature right then and there. "I knew he wasn't going to be easy to get," said O'Reilly. Indeed she did get bitten.
Despite it all, she even took the animal home so it had a place to stay until it was retrieved.
Dupuis added: "O'Reilly went above and beyond what I would expect an ACO to do. If anyone could have seen her that day, it was clear she is in this job for her love of caring of animals."
O'Reilly, who has been the town's animal control officer for 12 years, said she had previously worked at veterinary hospitals and a medical diagnostic company. It was the Great Recession and here was a good opportunity – so she applied for the Watertown job and got hired.
Since taking the Watertown job, O'Reilly has been involved with the Animal Control Officers Association of Massachusetts, which has a training program.
Commenting on the Chihuahua and other pets, O'Reilly said, "I'm one of those people who sees myself in their little bodies. And I think: There I am hunkering down in the brush beside the Charles River. "
She added: "I love animals. All of us animal lovers who get into the field want to work with animals," said O'Reilly. However, pet owners are the ones who can be the hardest to deal with. "Sometimes, it seems, I should have gotten a degree in psychology."
Last summer the big animal issue reported in the local paper: "Aggressive raccoons attack Watertown residents, cause injury." O'Reilly said: "It was very odd; that's not very common." No rabid raccoon was ever collared for the crimes.
As for the wayward Chihuahua, his days of snarling in the mud and brush along the Charles River are over. He's living the comfy life back home in Maryland.
Got a good story about a Local 888 member? Email communications@SEIU888.org.