[caption id="attachment_9382" align="alignnone" width="149"]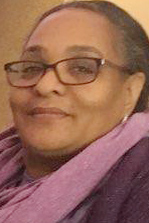 LORNA HERON[/caption]
Local 888 member Lorna Heron talked up the SEIU African-American Caucus (AFRAM) while at the statewide SEIU "Spring Fling" in April. Heron, who works at Boston's Commission on Affairs of the Elderly, is an Eastern Region board member for AFRAM.
"People ask the question: Can anyone join AFRAM?" said Heron. "The answers is: yes. But the caucus is for us, about us and run by us – by and for the members."
She praised the Massachusetts State Council for working to support the caucuses. And she urged people to join them.
Heron said the recent AFRAM conference in Baltimore was a great success. A key part of that, she said, came about because "for three years we have been fighting as one to get AFRAM Massachusetts to come together."
The national AFRAM mission statement says that its members "engage to promote social, economic and political justice." For more info on SEIU AFRAM Massachusetts, visit www.facebook.com/groups/503070166868170/.