[caption id="attachment_8790" align="alignnone" width="200"]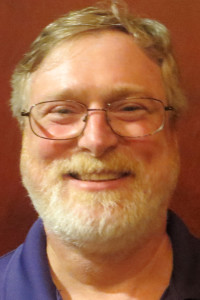 DENNIS LEVINE[/caption]
Local 888 members at Emerson College marked May Day with a rally that celebrated the demonstration last year that jump-started negotiations with the administration and led to the chapter's first contract.
Pelton agreed to join the negotiations. At that point, talks had dragged on for 21 months."May Day 2018 is when we held a rally outside the main administrative building at Emerson and got the president of the college, Lee Pelton, to come downstairs and talk to us," said Dennis Levine, now chapter chair. Local 888 members, joined by student and community supporters, presented the college's president with a petition demanding the school give the staff a fair contract.
"With Pelton at the next meeting, we were able to mostly finalize an agreement that we could put before the members to vote on," Levine added.
The four-year pact guarantees across-the-board raises of 14.5 percent over the life of the contract, new commuter benefits, strong "just cause" job protections and a sick bank.
The contract covers about 170 clerical, technical and professional employees at Emerson College who perform a variety of jobs critical to the success of the college.
For more on Local 888's upcoming Higher Ed Labor Summit, see www.facebook.com/events/454296101974670/