[caption id="attachment_9390" align="alignnone" width="300"]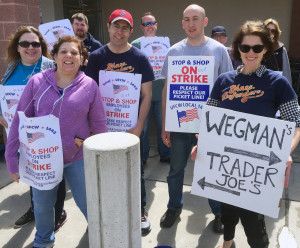 PITCHING IN: Local 888 was on the picket line in Medford with then-striking supermarket workers in Medford. From right, the new chapter chair of the MassDefenders, Rachel Scotch, Daniel Werner and Local 888 organizer D.J. Cronin, wearing a Sox cap.[/caption]
"It feels great," said Rachel Scotch, after getting elected as president of the MassDefenders chapter. "The next step is to move things forward so we're officially recognized as a union."
The MassDefenders renewed their campaign for collective bargaining rights starting in December by holding meetings around the state, gathering nominations and then holding the vote that made Scotch president. In addition to her, there are now 16 officers and executive board members for the budding Local 888 chapter. The roughly 750 lawyers, investigators and social service advocates and administrative staff in the state agency want to unite in Local 888 and bargain collectively. But a loophole in state law denies them this basic human right.
This month, representatives of the Mass-Defenders testified at the State House on behalf of a bill that would officially authorize the union.
The workers want to join a union, and the bill has enough support among lawmakers to pass. Last legislative session, a bill to fix this loophole never made it out of the powerful House Ways and Means Committee. In fact, the MassDefenders' campaign has already netted significant raises for employees of the Committee for Public Counsel Services — the bureaucratic name for the state's public defenders.
Without a labor contract, however, there is no guarantee of any raises looking ahead to the future, said Scotch, who has worked at the agency for nine years. "There's no way that people can plan their lives." One result is high turnover at the agency.
Scotch urges Local 888 and other union members to contact their legislators in support of the legislation. For more information, visit the Local 888 website: //www.seiu888.org/massdefenders/