[caption id="attachment_9396" align="alignnone" width="300"]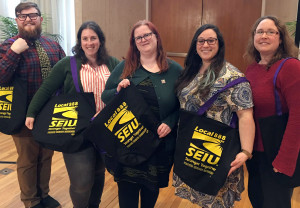 CONTRACT CELEBRATION: New officers for the Local 888 Brandeis librarians are: Will Lehman, chapter co-chair; Alexis Cooper; Aimee Slater, chapter co-chair; Esther Brandon and Mary Calo.[/caption]
Local 888 librarians at Brandeis University celebrated the completion of a successful contract campaign with the swearing in of new chapter leaders.
"Our members are definitely energized," said Aimee Slater, chapter chair. Looking ahead, she said, "we want to make connections with other union chapters and be more involved with the rest of Local 888 so we can be active allies."
More than previously, she said, her chapter's members were mobilized during recent contract negotiations. And most members attended a Dec. 3 lunchtime campus rally where the librarians were joined by more than 50 supporters. In addition, students, alumni and other unions (including the adjunct professors union, SEIU Local 509) delivered letters of support to the administration.
Negotiations had been stalled. But just days after the rally, the Local 888 librarians hammered out their new agreement.
"I think all of these things demonstrated to members that being in a union is about a whole lot more than paying dues," said Slater. "There's important work for all members to do."
Some members will receive up to 15 percent raises over the life of the three-year pact with "market adjustments." At the swearing-in ceremony, the chapter honored longtime stewards for their service: Thomas Valicenti, 10 years; James Rosenbloom, 40 years; and Alexis Scanzani, four years.