[caption id="attachment_9385" align="alignnone" width="173"]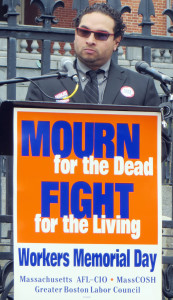 PAYING RESPECTS: Al Vega of MassCOSH speaks at Workers' Memorial Day in Boston.[/caption]
Local 888 leaders joined a somber crowd at the State House for Workers' Memorial Day. The event honored workers in Massachusetts who have lost their lives while simply doing their jobs — and paid tribute to the families who have lost loved ones.
"We stand with you," said Al Vega from the Massachusetts Coalition for Occupational Safety and Health, a Local 888 partner organization. "We're going to fight to make sure that the state's workplaces are safe for everyone."
"A key goal for our union is making sure workplaces are safe for our members," said Local 888 President Brenda Rodrigues. She praised a new state law, which took effect this year, that makes federal health and safety regulations the minimum standard for all public employees.
The Boston event, sponsored by MassCOSH, featured speakers from labor unions and community groups. It was this coalition that spearheaded passage of the new law, — which puts the onus on employers to make sure workplaces meet federal Occupational Safety and Health Administration (OSHA) regulations
"Without the OSHA standards, public employees have lacked much-needed protections," said Rodrigues. A workshop at the Local 888 convention last October put a spotlight on the state law.
According to a report from MassCOSH and the state AFL-CIO, 59 workers lost their lives while on the job in 2018. Another 10 firefighters died from workplace-related diseases. The report adds that those who are at a higher risk of workplace injury, such as in construction, are also at a higher risk of opioid misuse. For example, Massachusetts construction workers die from opioid overdoses at a rate six times that for other industries.
That's why MassCOSH is taking a closer look at opioids in the workplace — and taking action, said the coalition's executive director, Jodi Sugerman-Brozan. This includes working with labor unions to educate workers on addiction.
MassCOSH has helped develop "a peer-led, workplace educational curriculum to reduce workplace injury and opioid misuse" with the help of a University of Massachusetts Lowell center, the Massachusetts Nurses Association, Teamsters Local 25 and Ironworkers Local 7.
For more info on the new state law that covers public sector workers, visit: https://www.mass.gov/workplace-safety-and-health-program-wshp. For more on MassCOSH, visit: //www.masscosh.org/.