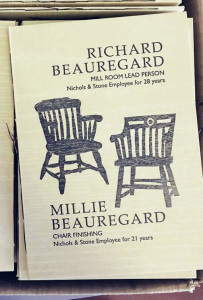 Local 888 member Jonathan Dudley has helped produce a new book of interviews of two former furniture workers who worked for decades in the industry that earned Gardner the nickname of "Chair City." The Chair City Community Workshop, 306 Central St., downtown Gardner will host a book discussion June 30, Sunday, 2 p.m.
Dudley, a Head Start teacher at the Montachusett Opportunity Council, has also transcribed furniture workers' interviews for the Chair City Community Workshop.
"Richard and Millie Beauregard's oral history is an account by two working people about their experience working in the furniture industry and trying to understand why a 150-year-old company shut its doors," said Dudley. When their company, Nichols & Stone, closed its Gardner plant in 2008 it blamed the Great Recession "along with a flood of low price/low quality imports." It was the last major furniture manufacturer in Gardner.
Mount Wachusett Community College instructor Tracie Pouliot runs the community workshop, where volunteers hand print and bind books celebrating the stories of the working people in Gardner. The latest book is the ninth in a series on the furniture industry, which in its heyday earned the city the name "Furniture Capital of New England." For more info, call 865-696-6733, or see https://tinyurl.com/ChairCity.