[caption id="attachment_9418" align="alignnone" width="300"]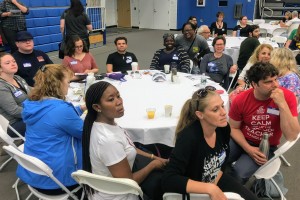 LEANING IN: Local 888 members attend the Labor Notes Troublemakers School on June 1.[/caption]
Local 888 leaders are getting trained on how to build power in the workplace, increase membership participation and win better contracts.
About 25 Local 888 leaders, members and staff attended the Labor Notes Troublemakers School in Worcester on June 1. Members in attendance included leaders from the Chelsea Soldiers Home, Montachusetts Opportunity Council, the town of Westwood, Boston Elderly Commission, Boston Centers for Youth & Families, UMass Lowell and Local 888's new chapter for the state's public defenders agency.
In addition, Local 888 is conducting regional trainings, with leaders from 40 chapters attending so far.
"It's all part of helping our union to get stronger," said Elmer Arriaza, vice chapter chair at Chelsea Soldiers Home, who attended a Braintree session and the Troublemakers School. "It's good, too, because you get to meet Local 888 members from different locations."
Arriaza, a cook at the Soldiers Home, wants to help his fellow Local 888 members because "I have a passion for it." Going to training sessions is part of learning new ways to do just that.
For Arriaza, it's also part of building up the labor movement — which includes supporting others' struggles. He recently walked the Stop & Shop picket line in Everett when the grocery workers were on strike. And he joined Uber and Lyft drivers last month when they protested low pay.
Regional leadership trainings have been held in Marlboro and Scituate and at the Local 888 headquarters in Braintree.
For photos of recent sessions, see the SEIU Local 888 Facebook page at https://www.facebook.com/SEIULocal888/.