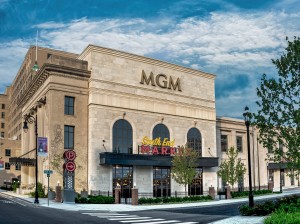 Local 888's Committee on Political Action took a "gamble" and organized its first social event for members. The day trip went to the MGM Springfield, the new casino that has slot machines, gaming tables and a poker room.
"We had a really great day exploring the MGM," said Paul Moriarty, shop steward at the Northern Berkshire Registry of Deeds in Adams, who attended with his wife, Ann.
Another registry employee and Local 888 member, Maryann Fortier, brought a friend along as well.
Moriarty and his wife, Ann, are from Holyoke, and had talked about going to the nearby casino on some trip to the area. The union event gave them the perfect incentive.
"And it was great that the union local had an event out in western Massachusetts," said Moriarty.
He coordinated his visit with Tom McKeever, Local 888's political director and the organizer of the MGM social event. So everyone was able to meet up when the bus pulled in and an MGM employee gave them a talk on the casino.
The cost for those coming out from the Boston area was $40 — which included the bus ride, a breakfast sandwich, $20 in casino scrip, and a $10 food credit.
"The trip provided an excellent addition to the other activities organized by COPA," said McKeever. COPA meetings are being held monthly in various parts of the state.
For more information, contact McKeever at tmckeever@seiu888.org.