[caption id="attachment_9500" align="alignnone" width="300"]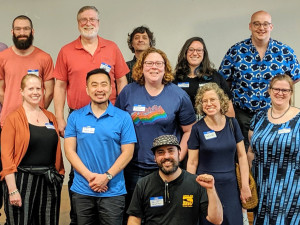 LOOKING UP: Staff at area colleges and universities shared workplace issues and strategies at Local 888's recent Higher Education Summit in Boston. A followup meeting is in the works.[/caption]
On June 15, members from BU, Brandeis, Emerson and UMass Lowell gathered to talk about their common workplace problems and share creative solutions.
"The higher-ed summit was a great chance to meet with our counterparts at other schools and find that we relate on so many issues," said Robin Chace, an information-design and support specialist at Emerson College. "I was energized and motivated by the camaraderie and exchange of ideas that came from this meetup. I'm looking forward to the next one!"
"I absolutely loved the opportunity to meet union members from other universities!" said Esther Brandon, a digital literacy specialist at Brandeis University. "We were able to compare challenges and develop relationships that will strengthen our union."
In talking about their own contracts, members found that, while one might have better language on promotions or just-cause protections, another had superior pay or more vacation time.
Now higher ed chapter leaders are inspired to aim for the higher standards in future contract negotiations.
Members also shared tips and strategies on contract enforcement, bargaining, research and getting members involved. In addition, students who have been active supporters of their campus unions talked up their own experiences. Building a strong alliance with students, faculty, other campus unions and the alumni community can strengthen workers' on-campus power.
At the conclusion of the summit, attendees vowed to bring more higher ed members together for another meeting in September and to share the lessons learned with their co-workers.
"As a union steward, the summit encouraged me to develop my leadership abilities," continued Brandon. "It inspired me to get more involved in the larger workers' movement. The summit helped me realize the larger perspective of unionized workers in solidarity with each other. Instead of focusing on specific universities or one union, we can enact lasting change that will benefit future higher education workers."
For more information about the next higher education meeting, contract Local 888 organizer by email at rwilson@seiu888.org or call (617) 241-3368.