[caption id="attachment_9497" align="alignnone" width="300"]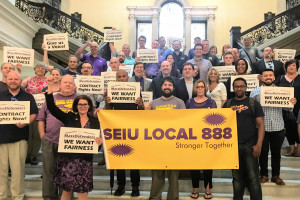 STANDING TALL: MassDefenders and supporters rally at the State House, pressing the Legislature to amend the state's collective bargaining law.[/caption]
Public defenders from across Massachusetts and their supporters rallied on the steps of the Grand Staircase at the State House to demand the same collective bargaining rights that all other state employees have.
About 750 Committee for Public Counsel Services (CPCS) attorneys, social service advocates, investigators, secretaries and other professionals work on behalf of poor people in criminal cases, juvenile cases, child and family cases, and mental health and other civil commitment cases.
"We do really important work, and we deserve a fair deal," said Daniel Werner, an attorney. "We deserve the right to legally organize and bargain collectively. Last year, we came closer than ever
before to getting this legislation passed. I think we can do it this year."
"The time has come for this legislation, which is about two fundamental human rights" said Jason Lewis, chief sponsor of the bill in the state Senate. "Everyone has the right to a legal defense, whether rich or poor. It's a core element of our judicial system and our democracy."
"The second fundamental human right, he added, "is the right for workers to organize -- whether in the private sector or the public sector. They have a right to negotiate over wages and working conditions."
"Fighting for our collective bargaining rights is really a team effort," said Fall River public defender Ben Evans, who was the MC for the event. "We're lawyers, social workers, administrative staffers and investigators," said Evans. "And we've started forming our union right now, regardless of whether this legislation passes ‑ though obviously we need that, too."
"Yes, we are a union," added Rachel Scotch, who was recently elected president of the MassDefenders, a Local 888 chapter. "And we are stronger together with Local 888 and all the other unions across the state that are supporting our cause."
As state employees, CPCS workers already receive their paychecks, pensions, and healthcare from the state, but because of a defect in state law they do not have collective bargaining rights like other state employees. This lack of fairness, along with low pay and a lack of predictable career paths, creates high turnover and instability.
"This is what unions are all about: it's about fairness and people having a voice," said Local 888 President Brenda Rodrigues, addressing the crowd at the State House. "How ironic that these people who fight for justice for others, can't get a sentence changed in the state law so that they can fight for justice for themselves. For seven years the Legislature has had the opportunity to include these workers in the state collective bargaining law — but has failed to do so. It's long overdue."
Senate Bill 1555 and House Bill 2330 currently before the state legislature would repair that flaw and treat CPCS employees like every other state employee who works for a state agency or the Judiciary. The bills were referred to the joint committee on Public Service which reported out the legislation favorably. The pending legislation is now before the respective Senate and House Ways and Means committees.