[caption id="attachment_9553" align="alignnone" width="300"]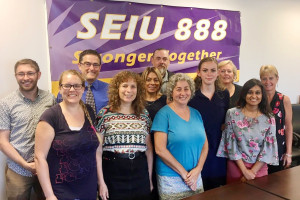 HEALTHY SUPPORT: Local 888 members and staff along with health and safety professionals were there for a report on custodians' health and safety given by, in front at right, Sheba Saji and Ellie Prickett Morgan, immediately to her left.[/caption]
Local 888 custodians face a wide range of health and safety issues — from the demands of physical labor, to the hazards of cleaning chemicals, to the dangers of dealing with bodily fluids, such as blood and saliva. For example, cleaning up from blood spills is a regular feature of work at the Chelsea and Holyoke Soldiers Homes.
Local 888 engaged occupational health and safety interns Sheba Saji, a graduate student, and undergrad Ellie Prickett Morgan to study the hazards. The pair interviewed Local 888 custodians at 12 different worksites this summer.
Their research resulted in an in-depth report on health and safety problems along with some recommendations for dealing with them. The pair spoke at Local 888's Braintree headquarters.
"Poor practices for storing chemicals" is a common problem at custodians' workplaces," said Saji. Touring some facilities, she added, "we'd get hit with intense odors" in chemical storage areas. She recommended that chemicals no longer in use get disposed of and that facilities adopt safer, "green" chemicals whenever possible.
Another common health and safety issue for custodians is the use of caustic stripping compounds for cleaning floors, which can cause painful chemical burns on exposed skin.
In addition, slips and falls are common during such cleanings.
The report adds that isolated working conditions is a problem: "Solitary work is an extremely dangerous practice." Custodian work involves unseen hazards and a lot of moving objects around.
A Mashpee custodian recalled the severe injuries suffered by a Local 888 member in a town building. The maintenance man was working on scaffolding when part of it collapsed, causing him to fall 8 feet. His injuries included a severe ankle fracture, leg fracture, neck fractures, and injuries to his wrists and face.
Other hazards custodians may face include common cleaning chemicals, such as ammonia and bleach. The report recommends keeping a log along with material safety data sheets on what chemicals are in use. As for unused chemicals? Get rid of them — safely.
Even in workplaces where good practices have been put in place, there is the need to train new people and give them the tools they need to perform their jobs safely. For example, older facilities may have asbestos, such as in vinyl flooring and ceilings. Proper training is key for preventing the inhalation of the carcinogenic compound's fibers.
The two interns produced fliers for Local 888 that cover: asbestos, floor care, chemical safety, blood-borne pathogens, shoveling snow safely and lifting properly
To get more involved with Local 888's focus on the health and safety of custodians — or to get copies of the union's fliers — contact a Local 888 organizer or email Rand Wilson at rwilson@seiu888.org.
The U.S. Environmental Protection Agency conducted a Janitorial Products Pollution Prevention Project. Some information on that can be found at: https://www.epa.gov/greenerproducts/greening-your-purchase-cleaning-products-guide-federal-purchasers