[caption id="attachment_9544" align="alignnone" width="300"]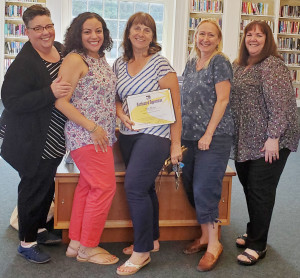 SMILES ALL AROUND: Local 888 members Carol Hamilton, internal organizer Madeline Soto, Sue Noel, Kerry Lee-Noel and Cynthia Alexander celebrate the Dracut chapter's new contract.[/caption]
The Dracut library and Town Hall clerical staffs have ratified a new three-year contract featuring 3 percent raises each year and an increase in longevity pay. The Local 888 chapter has close to 40 members.
The contract includes an agreement that Town Hall workers will stay till 7 p.m. on Tuesdays, but get to leave on Fridays at 1 p.m.
The chapter is bidding goodbye to its longtime leader, Sue Noel, a former Local 888 Executive Board member. Local 888 gave an award to Noel, the administrative assistant for the Dracut Fire Department, who is retiring.
As a leader, she worked with members and the local's staff to make the chapter stronger. Noel was also active in such Local 888 activities as gathering more than 1,600 signatures in support of putting a Fair Share Amendment on the state ballot. This measure, still up for debate, would institute a millionaires tax — an additional tax of 4 percent on the income greater than $1 million of state residents. The tax is targeted toward new state investment in education and the crisis-plagued transportation system.
Following in her footsteps, new leadership is stepping up to the plate. Kerry Lee-Noel (not related) is the new chapter leader.
For info on the upcoming SEIU Local 888 Leadership Conference, set for Sat., Oct. 19, email rwilson@seiu888.org.